This model is dedicated to labels up to 180 mm wide. It is particularly suited for labelling pallets requiring A5 size label management (150 x 210 mm) EAN-Standard pallet.
TECHNICAL SPECIFICATIONS:

Max. printing area: 160 x 500 mm (depends on the applicator pad)
Printing definition: 300 dpi (12 dots/mm)
Printing speed: up to 400mm/s
Label size: Width up to 180 mm – Length up to 500 mm long.
Thermal ribbon roll: Width up to 160 mm – Length 500 mm
Label roll: Max. 250 mm external diameter.
Ribbon saving device
Clearance dimensions (without applicator): 548x376x397mm
SUPPORT SUR40
Robust floor stand (for positions not subject to shocks), adjustable in height and configurable in many different ways. With accessories, such as air pressure regulator, beacon with indicator lights, electronic unit bracket etc.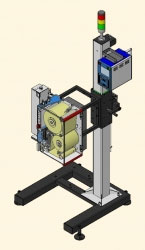 PROTECTIVE CONTAINER
Integral stainless steel box for protecting the electronic unit. Recommended for use in wet and dusty environments. Data can be set on the touchscreen.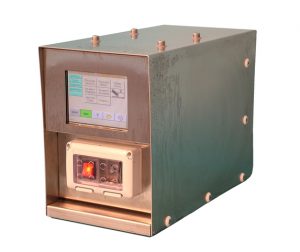 OPERATOR PROTECTION CAGE
Aluminium profile box for protecting the operator and the pallet printing unit.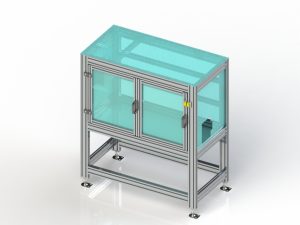 PRINTING UNIT HEATER
Instrument for holding the temperature at about 20°C in environments colder than 5°C.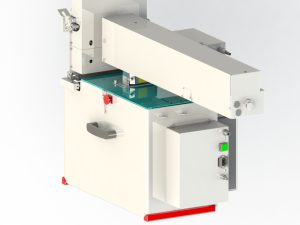 RFID TAG PRINTING
After printing, the smart label is taken to the applicator pad and printed in radio-frequency. The label is read and rejected if it is not correct. It is then automatically applied onto the object (pallet) and checked once again.
BARCODE-SCANNER
After printing, one or more codes are read and checked by a laser scanner. In case of negative results, the printing operation is repeated and the new label is placed on top of the previous one.
The checking device may be fitted on the printer (to check immediately after printing) or for reading the previously applied label. Barcode and two-dimensional code checking devices are available.