This SWING model is ideal to be integrated in continuous operating packaging machines on which variable data overprinting on the moving film is necessary. The movement speed of the film is generally not constant and for this reason an encoder device must be fitted on the printing roller to allow synchronism between printing speed and film speed.
SWING 1.CE – Max. printing area: 32 x 50mm.
SWING 2.CE – Max. printing area: 53 x 600mm.
SWING CL4 Max. printing area: 107 x 400mm.
SWING CL5 Max. printing area: 128 x 400mm.
TECHNICAL SPECIFICATIONS:

Printing area: up to max. 128 x 400 mm.
Printing definition: 12 dots/mm (300dpi)
Printing speed: up to 1000 mm/s
Printing frequency: up to 350 prints/minute (mod. SWING 2.CE)
SUPPORT
Structure support with slide for moving the printer to the most convenient position for changing the ribbon. Printing surface support is included.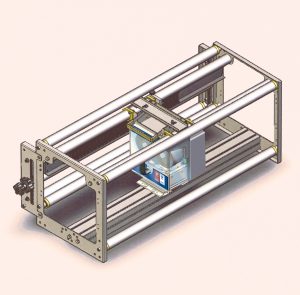 PROTECTIVE CONTAINER
Integral stainless steel box for protecting the electronic unit. Recommended for use in wet and dusty environments. Data can be set on the touchscreen.