This particularly compact SWING mode is ideal to be integrated in intermittent packing machines. For this application, the film advances step by step and overprinting is performed during the stops. The SWING with a mobile printing head is used for this application.
SWING 1.ie – Max. printing area: 32 x 50mm.
SWING 2.ie – Max. printign area: 53 x 90mm.
TECHNICAL SPECIFICATIONS:

Printing area: up to max. 53 x 90mm.
Printing definition: 12 dots/mm (300dpi)
Printing speed: up to 220 mm/s (Low-power) or 400 mm/s (High-power).
SUPPORT
Structure support with slide for moving the printer to the most convenient position for changing the ribbon. Printing surface support is included.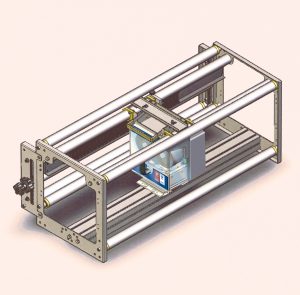 PROTECTIVE CONTAINER
Integral stainless steel box for protecting the electronic unit. Recommended for use in wet and dusty environments. Data can be set on the touchscreen.