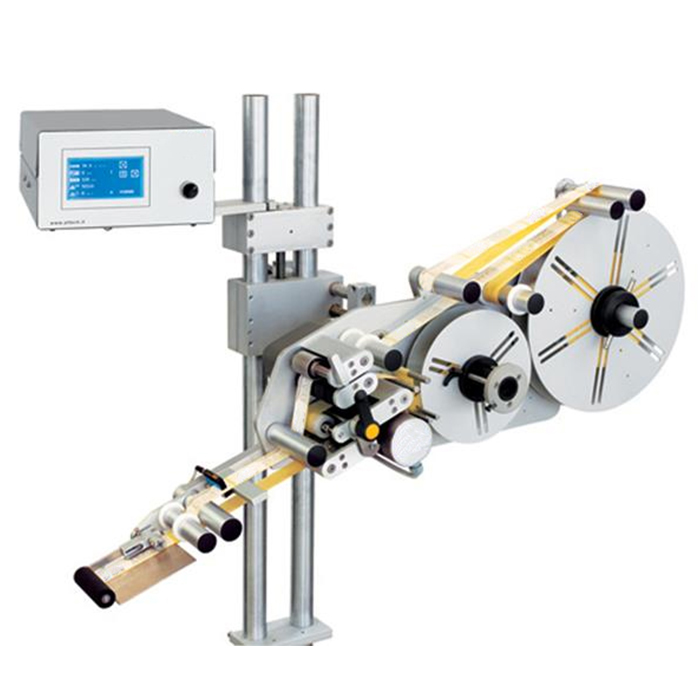 The RX10 self-adhesive labeller sets itself apart with its extraordinary capacity, working time, precision and speed.
Despite its compact size, RX10 is equipped with a larger unwind unit (400 mm diameter), coupled to a powerful rewinder unit to provide longer running times and reduced downtime.
Thanks to its powerful stepper motor, it can reach label supply rates of 40 m/min, and is available for 100 and 200 mm label widths.
The most sophisticated version of RX10 – equipped with a "High-performance" kit composed of a motorised rewinder unit for the silicone paper and innovative "push-pull" label web drive system – offers speeds of 90 m/min at a rate of 900 labels/minute; despite this incredible performance, high levels of positioning accuracy are maintained, even when the product transport speed is varied. This configuration is particularly well suited to rotary labellers and applications requiring the use of printers/markers and corresponding detector checks.
Available Functions
Facilitated paper insertion system (with cantilevered rollers)
Double-action pre-unwinding system
Push-pull drive system,
Compact rewinder unit for the silicon paper with brushless motor and gearmotor contained in the unwinder plate
Silicone paper removal system integrated in the paper driving disc
Near end-of-reel and rewinder-full detection with ultrasound sensors
Reel-locking system with expanding mandrel
IP55 rated machine body
Compact control box with touchscreen interface.