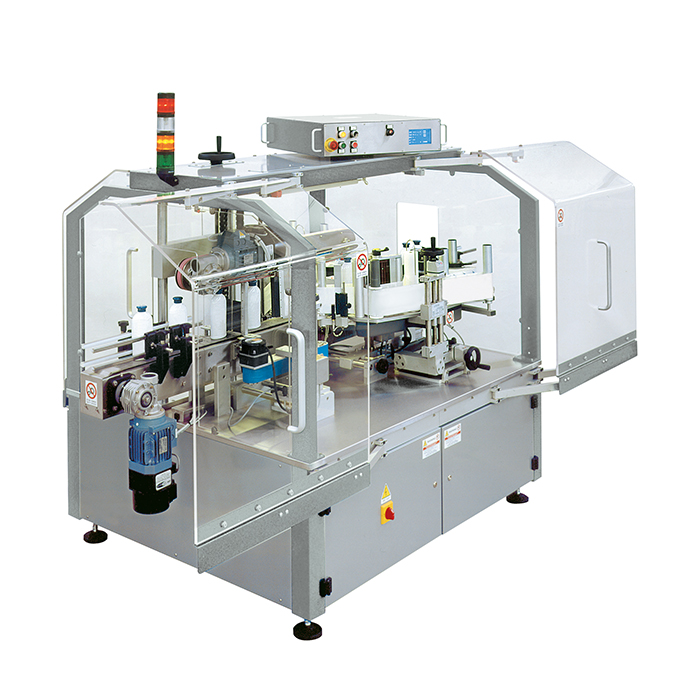 The performance of our linear systems can reach 500 pcs/min (depending on the product and label dimensions), or even higher in dedicated configurations.Their solid and compact base can accommodate two (or more) opposing side labelling heads in an easy-to-access protective cabinet.
Product Transport
This system can use various types of conveyors for product transport:
Slatted (in plastic or in steel)
Belt
Various different devices are available for product spacing, depending on the required product type and performance.Alignment and orientation of the products and their stabilisation during the labelling phase is entrusted to various specific tried and tested devices.
Precise Labelling
A sophisticated centralised system synchronises all the labeller components, allowing the speed to be regulated with a single potentiometer, and maintaining precise labelling even during start-up, stopping or slow down stages, synchronised with the entire line.
The upper trestle is present even when the cabinet is not installed, thus stiffening the top stabilising belt for increased rigidity of the whole system.
Our labelling systems can also be equipped with some of the wrap-around units for labelling cylindrical products.
Possible labelling solutions
Labelling of one or more sides with multiple labels
Front, back and corner labelling
Applying tamper-proof seals to product caps
Partial or complete wraparound labelling
Very high-speed labelling, including non-stop version
Regulating the different units for format/product changes is simple, high-precision and intuitive; the labeller is equipped with a function to save the parameters for a specific label-product combination, so they can be easily recalled using a code.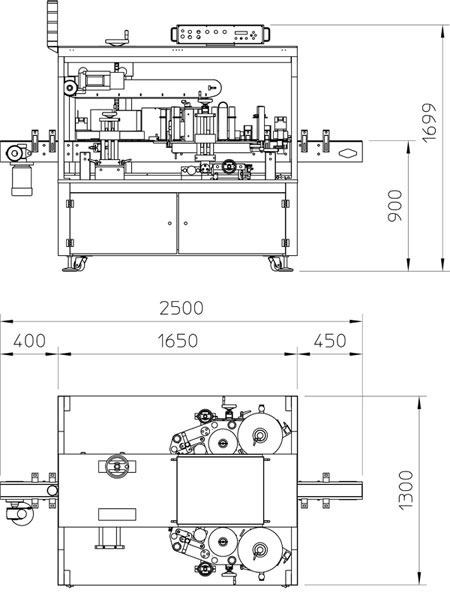 Labelling Machine for cleaning materials
Labelling system with two section conveyor.